Type of Phenomenon
Lunar Eclipse
ServiAstro broadcast the phenomenon in live with images taken by a team of the Institute of Cosmos Sciences of the University of Barcelona from the Centre d'observació de l'Univers d'Àger. The broadcast couldn't be totally completed due to the fog.
The last Total Lunar Eclipse we could see was on 27th July 2018, the next will be on 26th May 2021.


Visibility
The Total Lunar Eclipse of 21st January 2019 will be visible from central Pacific, Americas, Europe and Africa.
This image (F. Espenak, NASA's GSFC) show the pass of the Moon through the Earth's umbra and the visibility zones of the eclipse.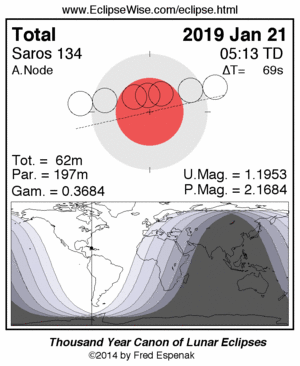 Phases of the eclipse
| Phase | Instant (TU) |
| --- | --- |
| Penumbral Phase begin(P1) | 2:36 |
| Partial Phase begin (U1) | 3:34 |
| Total Phase begin (U2) | 4:41 |
| Maximum | 5:12 |
| Total Phase ends (U3) | 5:43 |
| Partial Phase ends (U4) | 6:50 |
| (Moonset BCN) | 7:17 |
| Penumbral Phase ends (P4) | 7:48 |
Note: Add 1 hours to the Universal Time (UT) in order to obtain the official Time for Catalonia(UT)
Links