Type of Phenomenon
Lunar Eclipse
Next July 27 a Total Lunar Eclipse will be visible from Spain. However the rising Moon will already be partially eclipsed.
Lunar eclipses are celestial phenomena visible from a wide geographical area. There are different types: most impressive are Total Eclipses, when the Moon gets completely covered by the shadow of the Earth taking a reddish hue; a little bit less spectacular are the Partial ones which take place when the Moon enters only partly in the shadow of the Earth, they are seen with one part of the disk darkened and the other part still illuminated; and the most subtle ones are the penumbral eclipses, when only a slight darkening of the disk can be appreciated.

The last Total Lunar Eclipse we could see was on September 2015, the next will be on January 2019
Visibility
27th July Total Lunar Eclipse will be visible in its totality from South America, Europe, Africa, Asia and Australia.
The Moon will rise partially eclipsed in Spain (in Barcelona at 19:11 UT - 21:11 local time-). The maximum will happen with the Moon at only 10 degrees over the horizon. To enjoy the eclipse an horizon without obstacles in the south-east direction will be necessary.
This image (F. Espenak, NASA's GSFC) show the pass of the Moon through the Earth's umbra and the visibility zones of the eclipse.
Phases of the eclipse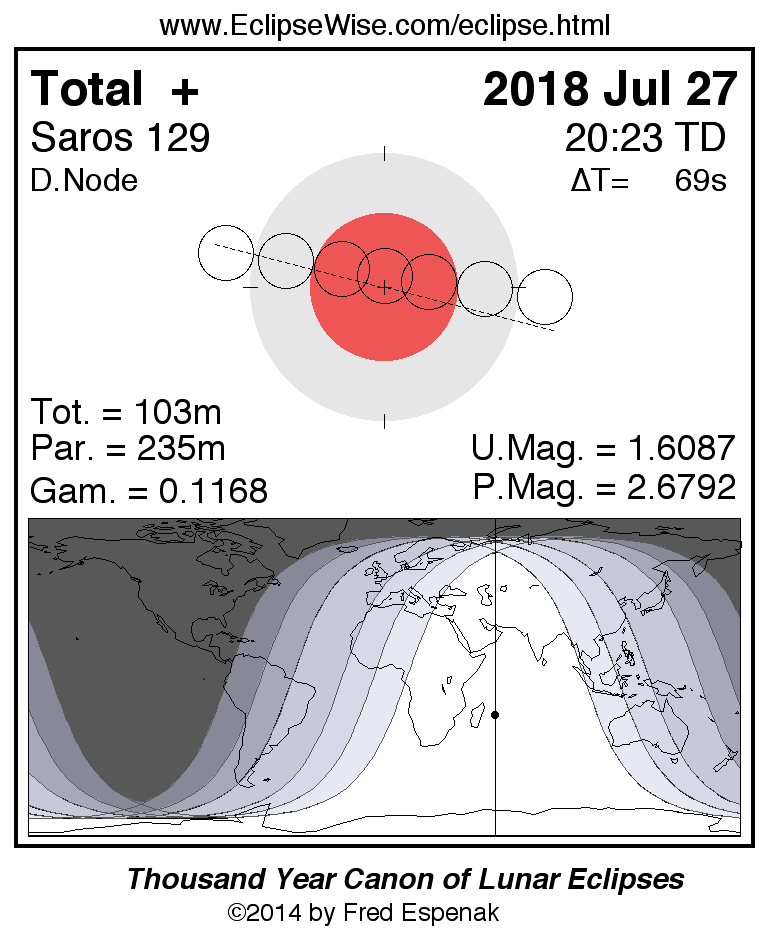 Phase --- Instant TU
    Penumbral Phase begins (P1) --- 17:14
    Partial Phase begins (U1) --- 18:24
    Total Phase begins (U2) --- 19:30
    Maximum --- 20:21
   Total Phase ends (U3) --- 21:13
   Partial fase ends (U4) --- 22:19
   Penumbrral phase ends (P4) --- 23:28
Note: Add 2 hours to the Universal Time ( UT) in order to obtain the official Time for Spain
Data calculated with Eclipse2 app
Links
Eclipse2: App for calculating eclipses & transits